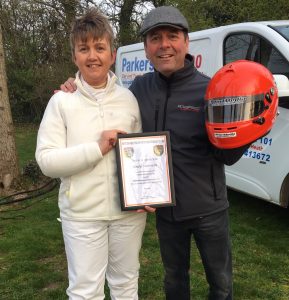 I started this journey at 13 by becoming a marshal at Harewood Hillclimb which was quite local to me and had been spectating there for a while and wanted to get more involved…This led to joining BARC and also Shipley and District Motor Club…I continued to marshal on club autotests and road/stage rallies until i got my driving licence which of course led to me competing.
My first experience of the good marshals do was at Mallory Park in 2007 when after an almighty race accident I was tended so well by the circuit marshals and medical team who removed me from a very badly damaged car and took me to the medical centre.
The job marshals do at circuits, rallies and club motorsport is incredible when you think this is all voluntary and enables events to take place smoothly and efficiently and I for one never ever forget to acknowledge track side officials when I'm on cool down lap.
I also put a little back into the sport by sponsoring Harewood Hillclimb the place where all this started so regulary attend events at the hill.
Also proudly a Goodwood regular at all 3 events they run Members Meeting, Festival of Speed and the Revival and I love letting onto all the track side officials at these events and have many friends through these wonderful meetings…
I also run my own motorsport company Acespeed Historic Motorsport and any apprentices are expected to marshal at events as part of the role to learn the importance of this role as this is how I started.
As Barrie Whizzo Williams team mate and close friend i understood and noticed the BMMC and following his untimely death wanted to follow his good work and was delighted and very honoured to be invited to be a Brand Ambassador to the BMMC a role I happily and proudly accepted.

I will do my very best to promote and make fellow competitors aware of the good work the BMMC undertakes.

Thank you for making me a very proud ambassador to the BMMC.