Club Ambassador Dawn Boyd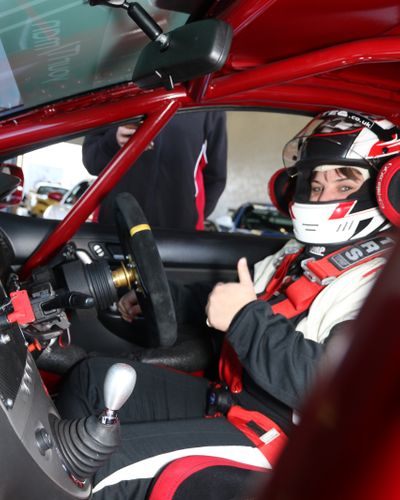 Marshals are the unsung heroes of motorsport, out in all weathers.  I am a keen marshal myself and instead of a sponsorship livery, I'll be a rolling billboard advertising marshals."
This is my 15th year of racing.  Initially through the Formula Woman competition racing a Caterham, then on to Fiesta's, Mini Challenge, Golf Gti Mk2 (Max 1&2), Fiesta ST (Syd & Molly), Honda Civic (Fynn & Kit) and now the Golf Gti Mk5 (Seve).. yes all my cars have names.
Advent Motorsport initially ran my Caterham and the Mini, but most of my racing career has been with team Finsport, a team myself and Jay & Kim Finlay created to combine racing and a performance tuning business.  I've racked up over 70 trophies including 2 Championship Wins, the V-Tech Challenge in the Honda and the Production GTi 8 valve Class in the Mk2 Golf.
This year I've created a new team with my boyfriend, Andy, and calling ourselves B42's Motorsport we are building a new car to return to the Production Gti Championship – This time it's a Mk5 Gti and its liveried up to support the Marshals.
In glorious technicolour orange and silver we should stand out and I plan to be able to provide a hot drink to any Orange Army visitor to our paddock garage and hopefully get some supporters on board who can provide a few free gifts.
More about me, my racing history and the plan to race the Marshal Support Car can be found at my website dawnontrack.co.uk.
We will be creating a feature page on the BMMC website to let you know when and where I will be racing, where to find me for a coffee, along with any features or promotions that supporters may wish to add.  I'm creating this car off my own back, the only support being requested is in the form of gifts to hand out to the Orange Army.  Although it is open to major sponsorship at any time!
I'm proud to have been chosen to be one of the first BMMC Brand Ambassadors.  I've been a marshal for 5 years now, as a racer having been dramatically ejected from the black stuff a few times, I got talking to the orange army (whilst watching my race!) and made a friend or two, so I joined in.  I thought it was about time that a racer showed support to the marshals in as big a way as possible, so the whole car is your (our) feature!