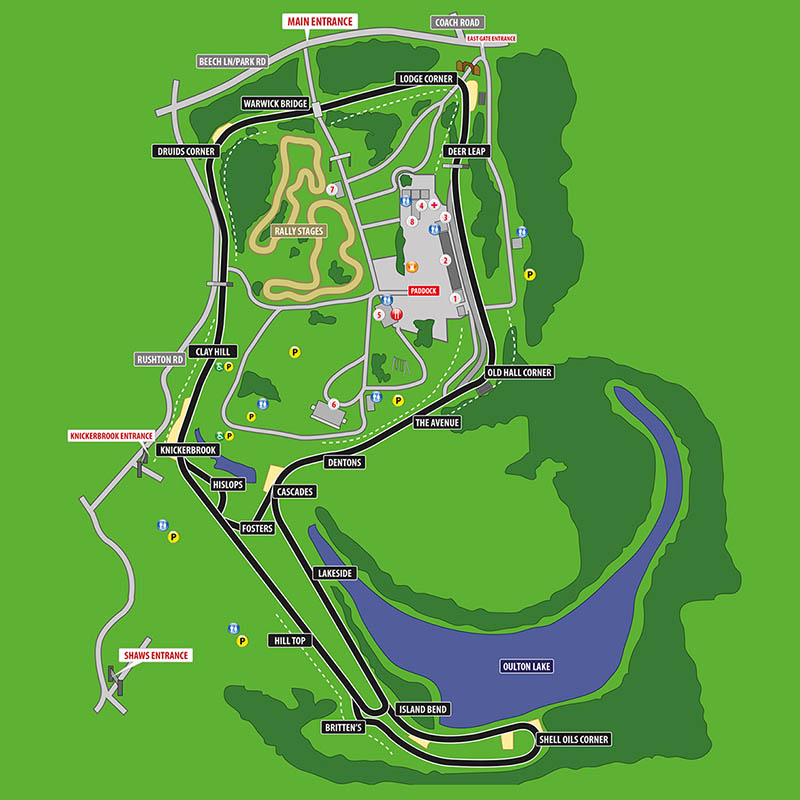 Website: Oulton Park
Map: Google Map
---
This superb park was once the grounds of Oulton Hall, which burned down in 1926.The land was used throughout the war years as an army staging camp – General Patton was based here in the run-up to the Normandy landings, and his PT instructor, the reigning Heavyweight Champion of the World, Joe Louis, gave exhibition bouts in the valley at Deer Leap.
The Mid-Cheshire Car Club developed the track, building it into the natural contours of the picturesque land and, when a crowd of 40,000 attended a meeting there in 1953, its future as a race circuit was assured.
International racing followed and a tradition was started with the Gold Cup event, which in its heyday regularly attracted F1 teams and drivers. The Gold Cup quickly became known as a real test of man and machine. Stirling Moss won the Cup five times, the first in a Maserati 250F delivered that morning from the factory in '54, the last in '61 in the four-wheel drive Ferguson. It was the car's only victory.
When F1 cars were banned from racing outside Grand Prix in the '70s, the Gold Cup was awarded to the winner of the race deemed Oulton's highlight of the weekend. The proper event has now been reinstated by the HSCC, and has immediately become a high point of the historic racing season. Many past masters are regular visitors to the event, and the enormous variety of historic racing cars on show is unparalleled.
Forthcoming events at Oulton Park
August 2020
• Sat, 22 August 2020: Circuit Racing - BARC HQ - BTCC
• Sun, 23 August 2020: Circuit Racing - BARC HQ - BTCC
• Sat, 29 August 2020: Circuit Racing - HSCC - Gold Cup
• Sun, 30 August 2020: Circuit Racing - HSCC - Gold Cup
• Mon, 31 August 2020: Circuit Racing - HSCC - Gold Cup

September 2020
• Sat, 5 September 2020: Circuit Racing - 750 MC
• Sat, 12 September 2020: Circuit Racing - BARC NW

October 2020
• Sat, 3 October 2020: Circuit Racing - MGCC
• Sat, 10 October 2020: Circuit Racing - 750 MC
• Sat, 17 October 2020: Circuit Racing - BRSCC - Fun Cup
• Sat, 31 October 2020: Circuit Racing - BARC NW