Club Ambassador Andy Harrison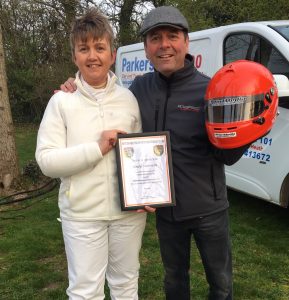 I started this journey at 13 by becoming a marshal at Harewood Hillclimb which was quite local to me and had been spectating there for a while and wanted to get more involved…This led to joining BARC and also Shipley and District Motor Club…I continued to marshal on club autotests and road/stage rallies until i got my driving licence which of course led to me competing.
My first experience of the good marshals do was at Mallory Park in 2007 when after an almighty race accident I was tended so well by the circuit marshals and medical team who removed me from a very badly damaged car and took me to the medical centre.
The job marshals do at circuits, rallies and club motorsport is incredible when you think this is all voluntary and enables events to take place smoothly and efficiently and I for one never ever forget to acknowledge track side officials when I'm on cool down lap.
I also put a little back into the sport by sponsoring Harewood Hillclimb the place where all this started so regulary attend events at the hill.
Also proudly a Goodwood regular at all 3 events they run Members Meeting, Festival of Speed and the Revival and I love letting onto all the track side officials at these events and have many friends through these wonderful meetings…
I also run my own motorsport company Acespeed Historic Motorsport and any apprentices are expected to marshal at events as part of the role to learn the importance of this role as this is how I started.
As Barrie Whizzo Williams team mate and close friend i understood and noticed the BMMC and following his untimely death wanted to follow his good work and was delighted and very honoured to be invited to be a Brand Ambassador to the BMMC a role I happily and proudly accepted.

I will do my very best to promote and make fellow competitors aware of the good work the BMMC undertakes.

Thank you for making me a very proud ambassador to the BMMC.
In the second of the series of updates on the work and support for our club by our growing band of BMMC Brand Ambassadors we hear from Andy "Ace" Harrison.
What a season with a mixture of me running drivers in our Acespeed Historic Motorsport team, my racing and my other passion rallying so a mixed bag of events.
All started with members meeting at Goodwood with the added pride of representing BMMC UK on car and overalls.
We ran three cars including one for me which was the only one to give hassle the whole weekend with an early recovery to the pits after engine let go always a great time to chat to all in orange and appreciate what's involved from close quarters.
Three times this season due to silly issues i have been recovered and each time the team in orange recognised me always said something to cheer the moment have a selfie and sign their program or overalls.
Also during the Donington Historic Festival i was in a local curry house close to the circuit when on the table next to me was a large table of marshals who were having a chat that I was ear wigging into, it turned out they had not had a good day with competitors who had been a little rude to them so I continued to listen make notes and when it came to leaving I stood up and one of the table recognised me as a BMMC Brand ambassador and she couldn't believe I had been listening.
Anyway I told them I would do something about this for them and I went to organisers of all the championships and made sure they had another drivers briefing regarding their drivers conduct towards marshals which I am passionate about as that's where my motorsport career started at Harewood over 40 years ago.
I now make sure that in any race I'm involved in that the drivers briefing involves notes regarding conduct to all marshals before they go on track and believe this should happen in all motorsport. (Thank you Andy – Ed)
I did Harewood Hillclimb during July for a relaxing days motorsport when I noticed the paddock marshals looking a little stressed as they were young and starting out on their own motorsport journey so after my run I went to the 2 of them and told them about my own journey. How I had started at Harewood all them years ago explaining how good a journey it is and to be fair how tough it is at times, but most of all how proud I was to see them sorting the paddock out politely and efficiently and that this would stand them in good footings for their future.
I have just done the Lombard Rally Bath in our ex works Morris 1800 S Landcrab with BMMC logos proudly displayed on the car…First stage had 5000 spectators a very successful event with lots of marshals around the circuits.
This season has had its ups and downs but have been very proud to represent the BMMC UK around the world racing, rallying and hill-climbing and making people aware of the orange army in all aspects of what I do.
I am sponsoring Harewood once again in 2020 and have a full program of racing too and look forward to representing BMMC UK again if you are happy for me to do so.
Finally, I attended the marshals training day at Cadwell on the 2nd November and talked at the evening dinner too.