Autumn brings the changes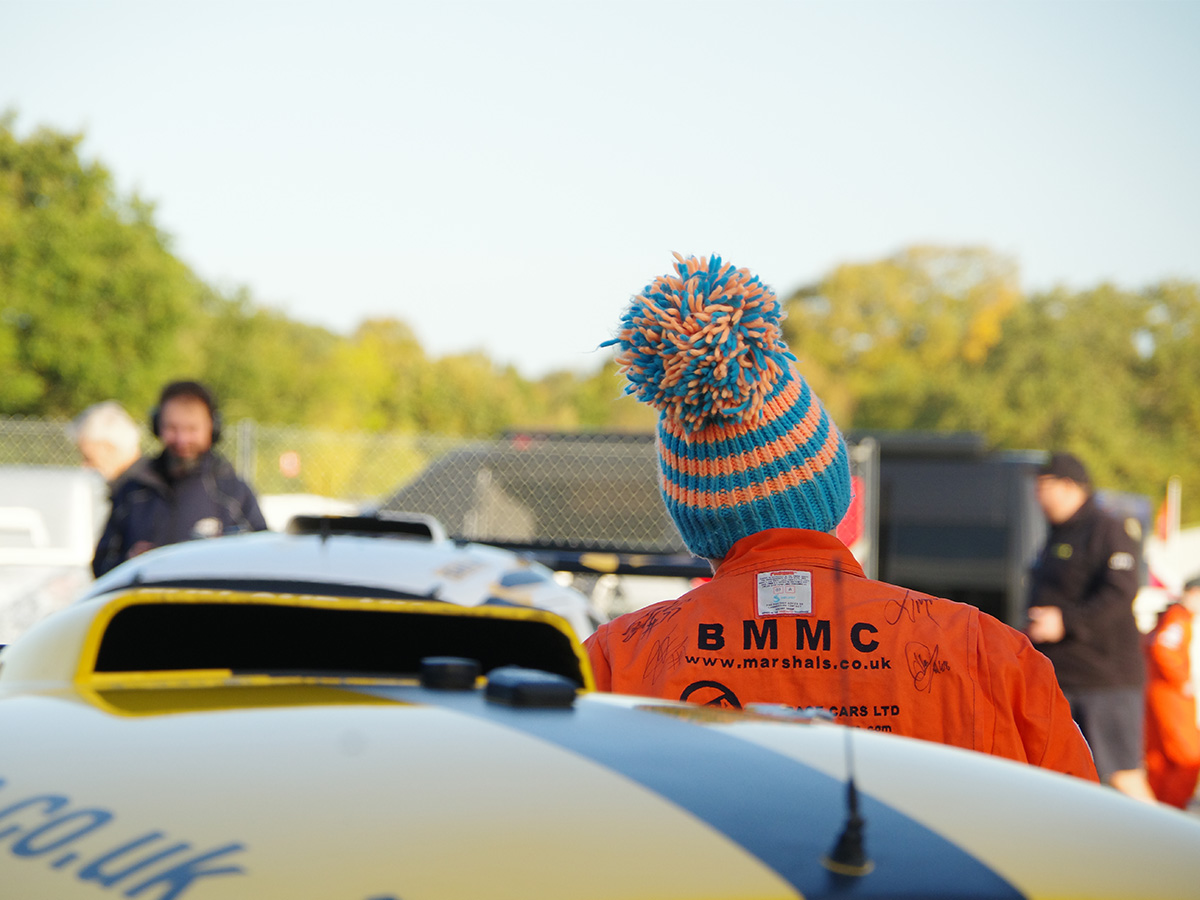 October sees a turning point in the year as championships are decided and rallying in inclement weather becomes more inevitable!
BTCC was concluded early in the month and a scary incident in the Porsche support race saw a car launched on to debris fencing protecting a marshals' post.  Thankfully no physical injuries for anyone involved but a shocking incident nonetheless which could shake even a well-seasoned marshal!  But a good reminder to always keep your eye on approaching traffic.
As a reminder – if you are ever affected by an incident your first port of call should be the event Chief marshal.  The organising clubs will be able to support you.  Motorsport UK only get involved if the organising club requests input.  Please also note that BMMC are not notified (due to GDPR) and therefore are unaware of who is involved or affected unless advised or people recognised by local members.  Of course our own anonymous counselling service is there to support you if you contact them directly and the BRDC Charity too.  Motorsport UK are currently reviewing their process.
I attended Motorsport UK Council meeting earlier in the month where we discussed the strategy for Motorsport UK (https://www.motorsportuk.org/wp-content/uploads/2022/03/Motorsport-UK-Strategy-2020-2025-0621-1-1.pdf). I am pleased to say that Volunteers are part of the focus and further consultation and discussion will follow as to how this can be achieved. I have already ensured that "Volunteer retention, recruitment and recognition" is part of each Sporting committee's permanent agenda and this provides a framework to focus this attention going forward.
I also attended Marshals Advisory Group which was my last time as Chair. I have been part of this group since January 2010 – when I was awarded Marshal of the Year. As per the Motorsport UK rules I have had to stand down after my time of service. However we have come a long way and I am happy to be handing over in to safe hands. Our last meeting had a discussion about marshal retention. An interesting set of points raised which many of you will relate to …..
poor communication
poor grids
lack of lunch break
late finishes
…..to be continued and actions suggested!!!
We also agreed the new PRC format which will be launched soon. It is expected that a new wallet will also be produced and distributed too. Likely to be sent out as upgrades are processed – so registered marshals can move away from the current paper copy which was an interim solution. The PRC will be used for attendance, training and assessment signatures across all disciplines. Anyone who is not looking to upgrade will be encouraged to use the continuation forms to record days only. And don't forget you have until June 2023 to upgrade under the current scheme.
To finish our regions are holding AGMs this month so I encourage you to attend and support your local committees where possible – or why not get involved yourself?