Women's Motor Racing Associates Club's generous donation will help fund BMMC training equipment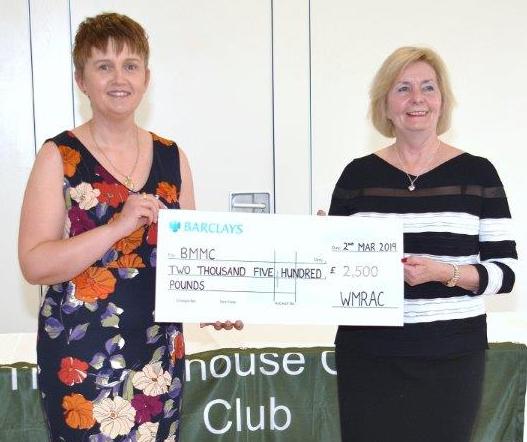 The Women's Motor Racing Associates Club (WMRAC), affectionately known as the Doghouse Owners' Club, has selected the British Motorsports Marshals' Club as one of three recipients of its fundraising activities this year.
BMMC Chair Nadine Lewis was presented with the cheque after WMRAC's recent AGM, accepting the generous donation of £2,500 from Elizabeth Walkinshaw, Chair WMRAC, which will be ring fenced for the purchase of training equipment.
Speaking after receiving the cheque Nadine said: "This is an extremely generous and much appreciated donation that will help fund vital training equipment for BMMC members. I'm delighted to be able to share this news and look forward to working together with WMRAC further in the future."
The WMRAC was formed by a group of Grand Prix Drivers' wives and girlfriends in the 1960s. It promotes Friendship, Support and Fundraising in Motorsport. Over the years it is estimated to have raised over £2 million for a large range of charities.