PRODUCTION GTi DRIVER DAWN BOYD TO PROMOTE BMMC THIS SEASON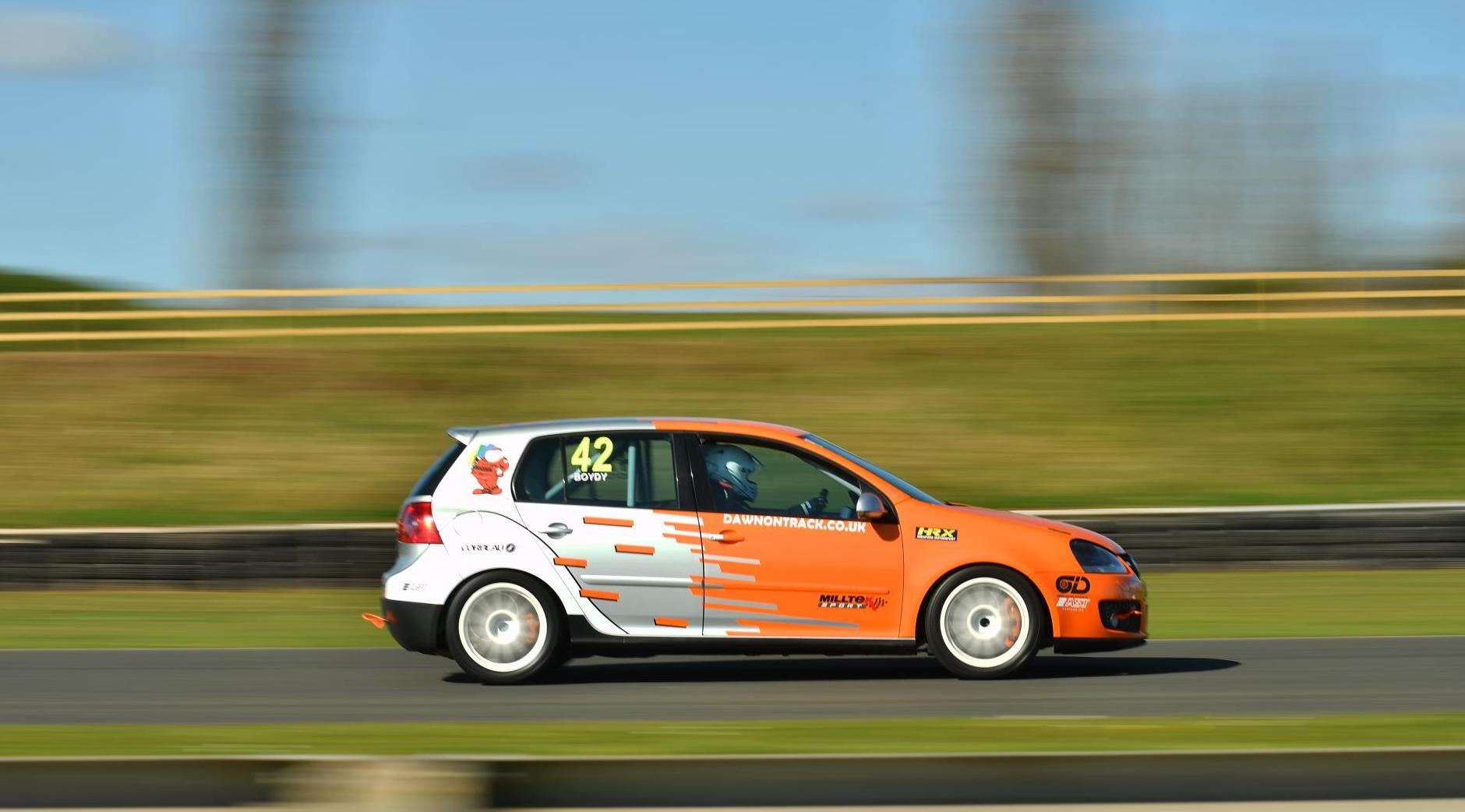 Race driver, Marshal and BMMC Brand Ambassador Dawn Boyd is planning a unique and innovative way to recognise and promote the work of the 2,400 plus volunteers who are vital to motorsports safety.
Dawn, who has been racing for 14 years and is also herself a keen marshal, is competing this season in the BRSCC Teekay Couplings Production GTI Championship. Dawn will race all 13 rounds in her Team B42's Motorsport Golf GTi Mk5 prepared with an orange colour scheme with BMMC logos and characters adorning the car. Look out for the B42's Motorsport/BMMC team clothing as well.
Dawn is looking forward to meeting marshals on duty at Silverstone this coming weekend (7th April 2019) for the first two rounds of the championship. Marshals who visit Dawn in the paddock this weekend will be welcomed with a hot drink and possibly even a goody bag of items donated by her commercial sponsors and supporters, just look for the orange windsock and chequered flag flying.
Speaking about her unique idea to promote BMMC Dawn said: "Marshals are the unsung heroes of motorsport, out in all weathers.  I'm a marshal too and have asked supporters to offer donations, not for me, but for marshals.  Donated items, like snacks, should be available at marshals sign on, but following some more valuable and exclusive donations, the only fair way to share them is in prize draws. 

"So, I've created an exclusive BMMC "Peekaboo" sticker for sale (that I hope all drivers will buy for their race car) and any Marshal who buys a sticker will also be entered into ALL the B42's prize draws ALL YEAR!  Any profits from the stickers goes back into organising donations for the Orange Family, see dawnontrack.co.uk for more details"
BMMC Chair Nadine Lewis said: "We're delighted with the support and brand awareness Dawn's kind gesture will achieve for the BMMC and I'm sure all of the marshals at Silverstone this weekend will enjoy a welcome hot drink while hoping Dawn has a successful day on the track."

Teekay Couplings Production GTi Championship dates
7th April 2019
Round 1&2 Silverstone
5th May 2019
Round 3 & 4 – Croft
8th & 9th June 2019
Rounds 5, 6 & 7 – Anglesey
30th June 2019
Round 8 & 9 – Snetterton
18th August 2019
Round 10 & 11 – Donington Park