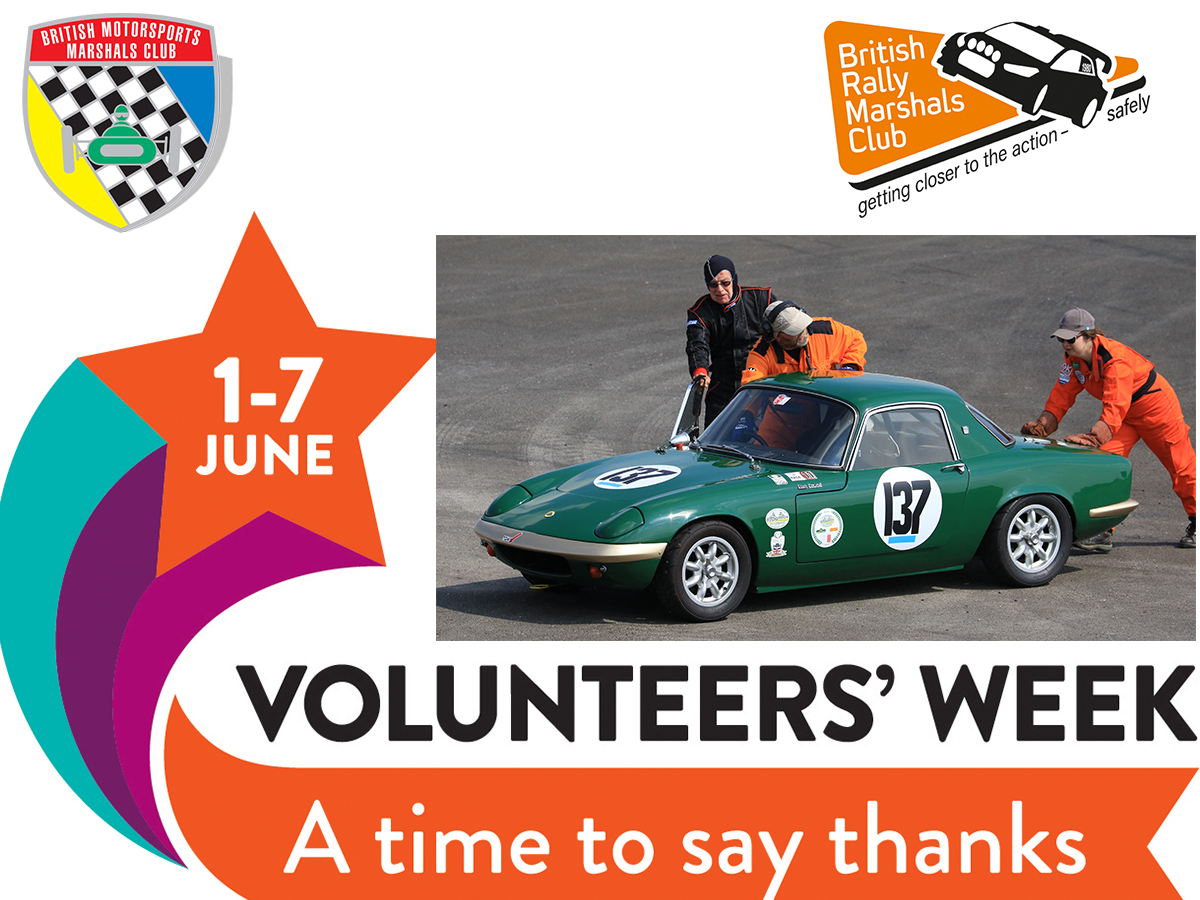 This year's #VolunteersWeek runs from 1-7 June – please join us in recognising and thanking all #volunteersand all those who usually volunteer but have not been able to because of coronavirus. Thank you one and all!
Assessments have started taking place at events around the country – particularly for those people who were hopeful of upgrading last year this helps recognise their achievements. For Examining grades performing these assessments please be advised you can complete the assessments report and comments in the individual PRC – using your own pen and maintaining social distance. If however you feel uncomfortable doing this you can also send an email to Motorsport U.K. detailing the assessment (person / location / date) so that this can be checked with the Chief marshal.
While we see a welcome return to spectators at venues we must remember to still maintain social distance and / or where a mask where not possible. Remember this virus has not gone away and despite vaccinations we have not all had both jabs and carriers may be unknowingly asymptomatic.
We have also welcomed trainees back to events and hopefully more to join in soon. We hope that we can restart taster days in June with the next step of easing out of lockdown but we must follow government restrictions and fingers crossed we see that next step stays on track.
A note to trainees – you do NOT need to have a scanner. As a race trainee in particular you should never be on post on your own. More importantly spend your money on a decent set of boots, waterproofs and a good bag / box to put your kit in! A scanner can present a distraction from 'reading the racing' which is a skill that comes with experience – take your time to understand what is happening at your location and acting accordingly rather than listening to what else is going on.
A note to everyone with a scanner! Remember this is an aid but must NOT be acted upon. I know people are rusty and limited training this year but you should know that Safety car flags and boards follow round the circuit in both directions from the start / finish line. Putting them out (and bringing them in!) at the wrong time can cause confusion for the drivers and makes penalties for misdemeanours harder to enforce by the clerks.
I have been made aware of some facility issues at certain venues and urge that any concerns you have are directed in the appropriate manner.
Raise concerns on the day to your Chief marshal – they should raise to the organising clubs who should address the venue directly (as they are the paying customer)
Raise to your local committee who will raise to the local circuit rep, who will speak with the venue
A number of concerns have been raised directly with Motorsport U.K. and to the Association of Motor Racing Circuit Owners for response and support.