Classic Sports Car Club Sponsorship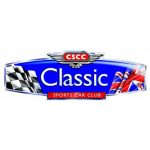 The BMMC is delighted to announce it has secured a further sponsorship deal ahead of the new season with Classic Sports Car Club (CSCC) that will help fund a further increase in the subsidy for members purchasing proban overalls.
The new deal comes into effect from the 1st April and will mean for the first time in the club's history members ordering ready-made overalls will receive a 100% subsidy, while those ordering made to measure will receive an equivalent subsidy of £84.50 thanks to the support of CSCC.
Commenting on the new sponsorship deal and subsidy increase BMMC Chair Nadine Lewis said: "We are indebted to CSCC for their additional support which has allowed us to now be able to offer this further subsidy increase.
"It has always been the aim of the Club to be able to provide members with a 100% subsidy and it is thanks to all of our sponsors and especially CSCC that we have now reached that milestone."
CSCC Director David Smitheram added: "We're delighted that CSCC is able to provide this additional support to BMMC marshals and are confident this is the start of a positive medium to long term arrangement between the two clubs.
"This new sponsorship opportunity for CSCC underpins our commitment to supporting the men and women who work tirelessly week in week out in all weathers to help us race safely."
The CSCC has also recently announced further support to marshals attending its meetings this season, with the introduction of a prize draw at every meeting in 2019 with an array of wonderful prizes, more details here www.classicsportscarclub.co.uk/marshals-officials