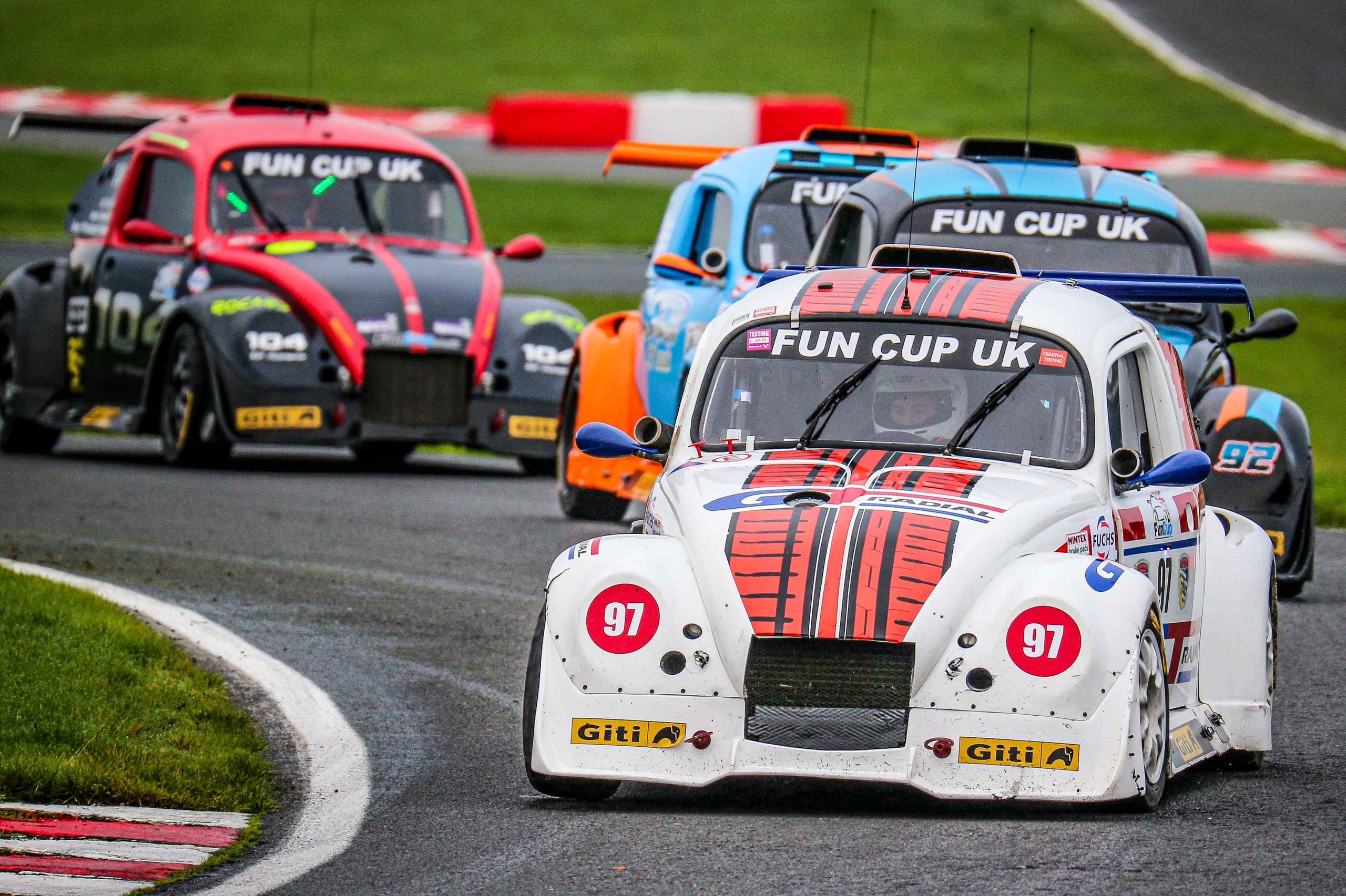 After a thrilling and at times exhilarating foray into the world of motor racing, our team of marshals who competed in the Fun Cup at Oulton Park in October have summarised their experience to share with us all.
Here we summarise their thoughts.
Joe Smith
First of all I would have to say a massive thank you to GT Radial, and everyone that helped us on Friday and Saturday for making our Fun Cup experience so great, this experience will be one that I remember for a long time!
Looking back over the weekend I think that all of us drivers did very well to learn both the car and circuit, both wet and dry, in the little time we had on Friday and Saturday, even with the few spins and offs that we all had. The pit crew did a wonderful job of getting us in and out of the pit lane, safely and swiftly, every pit stop. This really goes to show that us marshals worked well in a team together much like when we are out trackside.
Secondly, I think the Marshals car got a cheer every time it completed a lap it was amazing too see the support for the team by all the marshals trackside and everyone that came along too talk in the garage. There really was a lot of pressure the team to finish both races.
Qualifying flew by with all drivers getting the minimum three flying laps completed as the chequered flag dropped. It was then time for the first race which was an amazing experience especially as I was to start the race.
Flying into Old Hall, turn 1, for the first time with another 22 cars all around was as exciting as it was frightening. Luckily, everyone gave enough room and we started to settle into the race. After a short safety car my stint was over, I handed the car over to Tyler and Tom who brought the car home in an amazing 19th place.
Still buzzing after our top 20 finish in the first race I was again to start the second ordeal. After a clean first lap I started to push forward in an attempt to make my way up the order unfortunately, this was not too be as I ended up being collected in another competitors spin causing us damage. The marshals at Island and Shell joined in on the team effort and helped push us off the grass and onto the tow truck. Thanks to the help from the marshals and a tow back to the pit lane the car was swiftly fixed and we were back on our way although 20 laps behind.
Another stroke of bad luck struck as the drive shaft was to break during the next pit stop dropping us back another 3 laps however the whole team did another great job and brought the car back in another great 19th place albeit with a few more battle scars!
Overall, the experience was one that I will look back upon for many years it was surreal being on the opposite side of the bank and something that I never imagined I would get to try, I am forever grateful for the opportunity to represent the Marshals club and I feel like the whole team did the club proud. We took everything that was thrown at us and finished both races.
Tyler
I have to thank everyone on the team for being excellent fellow marshals to work with, and also a huge thanks to everyone else involved be it the local Oulton Park marshals, organisers and mechanics (and the cake was amazing too!!)

To top the whole weekend off, I think I have an even greater appreciation for the work marshals do around the track now that we've witnessed and needed their hard work. From the car being flipped, recovered, pushed and everything else in between, their work got us back on track in the second race and in practice, without their work to recover the car we would have gone home early. Not to mention their support, watching them wave us on during the race and speaking to us throughout the day, I feel that I can't show my gratitude and respect as much as I want to! From being in the driver's seat too, I can take a few lessons in being a better marshal in making sure my flag signals are clear, the blue flag used properly and knowing when to come out to recover a car. I certainly will need to make more trips to marshal at Oulton Park, I think it's well worth the journey for such a great track with wonderful people!

Additionally, a huge thanks to the GT Radial Team, especially Ellis, in having the bravery in taking on four total newbie drivers into the car. We got the car to the chequered flag each time, but I think we certainly left our mark on the car (and I am gutted not to finish the weekend with my stints being clean, I will not forget Cascades!).
Seeing the mechanics changing the radiator & drive shafts during the race was amazing, I've never been in a pit lane before so seeing the hard work and skill to change these components so quickly is quite inspiring. The entire Fun Cup teams, mechanics, organisers were amazing, and their efforts do reflect in the quality of the series as a whole. Our racing excuses can amount to not having a lot of track time plus difficult changing conditions, but as new drivers it's given us a wide range of what to expect on track and in future, I hope to look after the next car with a bit more respect!

It's hard to sum the whole weekend up in such few words really, it's just amazing to see the work everyone does. Perhaps this isn't the end of my racing career just yet, I think I've got a bit more to prove on track. But until then, I am more at home being trackside in orange helping the show carry on – and with that little bit more appreciation for the work and efforts to get those race cars on track for us to marshal!

Tom
What an incredible experience provided to us by The FunCup and GTRadial. I enjoyed every minute of it. This opportunity has given me a really valuable insight into life on the other side of the fence. Being a Pitlane marshal at Brands Hatch, I see the teams and drivers very frequently, but until now I had never really understood the stresses, strains and pressures of what it's like to be in the driver's seat.
It's now easier than ever to see why drivers may do things that as a marshal I would say "Well I wouldn't have done that", such as checking the light gantry every lap to see if you've got a warning/penalty or even failing to slow down enough under yellow flags. Every second you are trying to make the most time up on the track and I now understand how easy it is to miss something that I otherwise would have thought was obvious.
Another huge thanks to everyone who was involved to get us this opportunity. A massive well done to Joe and Tyler as well for putting in some excellent stints (making up for my couple of spins here and there!) Also, a big thanks to Craig, Josh and Dan who were key in making sure our pitstops ran smoothly and kept us in the races! Thank you to Nadine and the BMMC for helping a lot with the costs and organisation of this opportunity. Finally, a huge thank you to Ellis who was our team boss for the weekend, without whom we would've never been able to do this.
Craig
The marshals to race journey has been a fantastic experience. Starting out with two hours of karting and the dreaded mock interviews, followed by a few days of sore bones reminding me I'm not so young anymore. To then finding out I had been selected as reserve driver, being put through my race licence, getting a delivery of race boots and gloves and to top it off I get to drive the GTRadial #97 in the Friday test session. What an opportunity!
However, as I'm sure you've heard, my chance to drive the car in testing didn't quite go to plan, on the damp slippy track with a bit too much confidence I managed to spin it going into Druids… yep I'm the one who put the car on its roof!
It was nice that so many people from the paddock came to check I was ok and reassured me it was just part of racing before the inevitable and deserved jokes and laughter. Thankfully there wasn't too much damage and the car was back out shortly after.
It was probably a good thing then that on race day I was part of the pit crew helping the team alongside Josh and Dan. I haven't marshalled the pit lane before so this was a totally new experience for me and what a chaotic but exciting place it is. To be there though as part of a team experiencing the highs and lows of racing as we did in race two was brilliant, watching the mechanics repair our car in such a short time and seeing team Olympian's less than 10 second driver changes was very impressive.
Finally thank you to you the marshals! It was great to have our own fan club cheering us on lap after lap, getting us out the mud and putting us back onto our wheels. It was great to see the work we do from the drivers' side although hopefully next time I don't see the medical car.
Josh
It really was a surreal experience turning up to a race circuit not to marshal but to compete as part of a race team, let alone from the luxury of a hotel! Ellis and Brian from GT Radial immediately made us all feel really welcome and like part of the team. As I wasn't driving but working in the pits, I spent some time getting to know the garage mechanic and learning all I could about the car and what I'd be doing that weekend. There was a lot of interest around the back of our garage from Oulton's regular marshals and the other competitors which really brought home the reality of how special this opportunity was. We had great support from everyone who visited us and the other teams made us really feel like part of the Fun Cup community in no time.
We had more than our fair share of incidents across the weekend, with the most infamous being the rolling of the car into the Druids gravel on Friday. This didn't dampen anyone's spirits however, as many teams came to check on us and share a laugh about the whole thing. Mechanics from other garages got stuck in helping us repair any damage and cleaning the gravel out of the bodywork. At the end of the weekend Ellis entrusted us all with a Fun Cup patch for our overalls, which will be sewn on upside down we've all agreed as a reminder!
On race day I had progressed enough with the team to entrust me with radio duties as well as monitoring pit-stops and pit-windows (with a lot of help from Ellis). The 10 year old motoracing fan in me was incredibly giddy when I had the chance to call "Box, Box, for driver change!" over the radio and hear a "Box confirm!" in reply. Then standing on the outside of the box in a live pitlane with Fun Cup cars flying down the fast lane waiting to see our #97 and waving him into the box. Diving in, unplugging the driver intercom, and helping one driver out, then quickly refuelling as fuel went in, and finally, frantically doing up the belts and connecting the intercom for the next driver before they shot out of the box was an adrenaline sport in its own right.
Overall it really was a fantastic experience and I cannot thank Ellis and Brian from GT Radial as well as the entire Fun Cup paddock enough. I really hope that Tom, Joe and Tyler get the opportunity to use their race licences again soon and who knows, maybe I can get on the radio to them again!
Dan
After arriving late to the circuit on Friday afternoon I found the marshal drivers settling into the practice and getting used to the car. I got given my role of helping strap drivers in/out at pit stops feeling very much like a new comer as the team was already getting its hand in. Over the next half hour a number of spins was admitted to, then how many directions a spin occurred in at once. Mention was also made of how difficult it was to see flag posts and the light boards. One driver did admit to failing to turn off the car before exiting it so maybe drivers have a point.
This also started to explain the slightly nervous look of the GT Radial guys who were no doubt thinking of the repair bill.
Qualifying passed reasonably uneventfully with the all the drivers acquitting themselves well and qualifying in mid pack, before the random hat draw confirmed this.
An hour later the first race saw a few places lost to the more experienced racers but the car was bought home in one piece and not last. The second longer race after lunch was more eventful, while the live stream was focused on a first lap incident clear up up our driver got caught up in some one else's spin.
With the car off and driver out the TV footage didn't show any damage. When the car was bought back to the garage what seemed like an age later the truth of the destroyed radiator was revealed. At this stage the professional mechanics showed their skill and got the car back out less than half an hour after the incident.
A few driver changes later a broken drive shaft let us see the mechanics at work again before our drivers raced to the end. A broken radio gave one of them a chance to lead the pack (admittedly behind the safety car) and an incident in the closing stages caused some body work damage and a severe shake which made the last stints difficult. After three hours though they crossed the line in almost one piece and not last.
Seeing things from the other side of the pits certainly shows how easy it is to miss things: with your head down worrying about seat belts it's easy to miss that the engine is still running. The temptation to hold a door open during refuelling is also high. Coming away from the weekend I've got more sympathy for the regular racers (as well as being impressed at the slickness of their pit stops) when they mess up.
On the other hand as a new parent, I do think that race harness/seat builder could learn something from the manufacturers of baby seats: it's much easier to sort out the harness for an uncooperative baby than a race driver!
Final thoughts
On behalf of BMMC can we thank GT Radial, Ellis Hadley, Martin Gibson and the Fun Cup family!  Who knows if this chance will come around again?…..if it does be sure to watch this space.