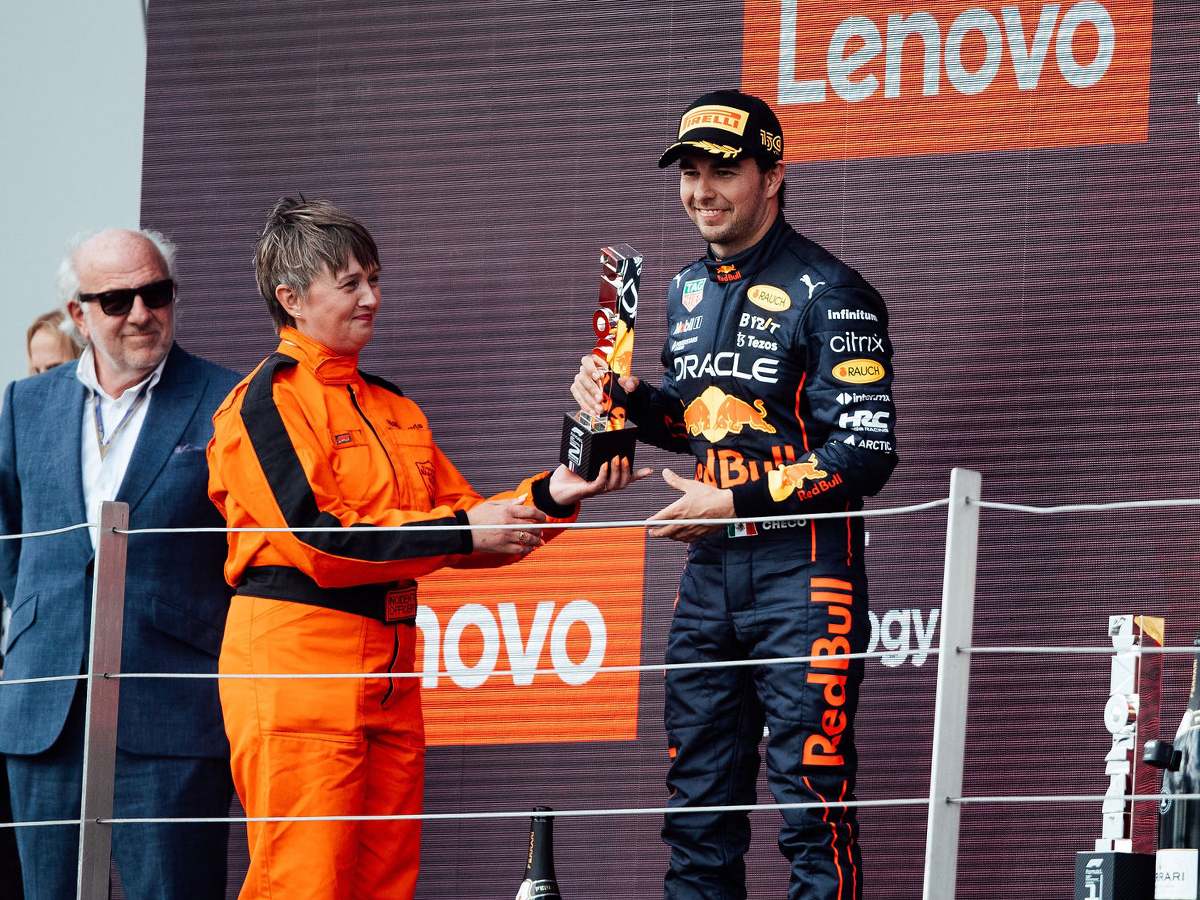 Photo: Jack Clayden / Motorsport UK
So I thought we'd be at Donington Park for two days this weekend and catch up on the British Grand Prix when we got home on Sunday night………..until I got a phone call mid-week!
I had been invited to lunch on Friday at Silverstone with Motorsport UK Chairman David Richards and the Regional Chairs of the BRDC to discuss the BRDC Motor Sport Charity (more information on this in a separate message later this week?) and thought that would be the only day I would be attending Silverstone this year. Due to (COVID) delayed holidays and other plans I would have been unable to have enough leave to marshal so had not volunteered for the event on that basis.
A huge thanks to David Richards, Motorsport UK CEO Hugh Chambers, the FIA and Motorsport UK who engineered the idea of having a marshal on the podium to present a trophy to P2 in the F1 race on Sunday. A phone call from Hugh on Thursday confirmed that it had been agreed by all and arrangements for tickets / passes were hastily organised.
The day passed in a bit of whirlwind – getting in was a breeze on Sunday morning (let's not mention getting out!). Breakfast while the F3 race was on and then a tour of the Aston Martin and Mercedes garages – fascinating and stopped for a chat with a few scrutineers too. Whilst in the pits I then was interviewed by Lawrence Barretto for F1TV and a memo went out to all the media teams and drivers to tell them who I was in case they finished second (Martin Brundle must have missed this!).
After lunch we were on the grid walk – how surreal was that? A few celebrities I recognised (some I didn't) but the orange family were all doing an amazing job – sorry if I didn't get to say hello to you all! Nice chat with Gunther Steiner, Lando Norris (and his Dad) and Nick Hamilton too who all were really grateful to the marshals – so passing on their thanks too.
Then shuffled off the grid ready for the race – OMG that start was scary! Well done to all involved with the Zhou and Albon incidents – thankfully both ok but that certainly woke us up. Not to mention the shenanigans down the Wellington straight – equally great work done by all involved.
About halfway through the race I did an outfit change (!) so that I was ready for the podium – I needed to be there 10 laps from the end so another shuttle bus to the Wing. What a last few laps that was – although I probably need to watch it all again!
I had a set of Silverstone overalls which was the best I could use at short notice as I was not allowed any sponsorship details on them (unfortunately) due to F1 TV rights etc. But to be in orange on a podium above the driver interviews and the teams was just amazing. And I was representing ALL marshals and not just BMMC by presenting the trophy.
Podium briefing with Alex Molina to say where to stand and when to escape the champagne (did you notice I made a run for it?). And then it all happened in a blur……….amazing!
It was an absolute honour and privilege to be given the opportunity to represent the volunteer community in this way with the FIA – the first time a volunteer has presented a trophy for an F1 race. I hope it won't be the last!
And to you all out there who have sent me lovely messages of support thank you but this is for you – keep up the amazing work #OrangeFamily