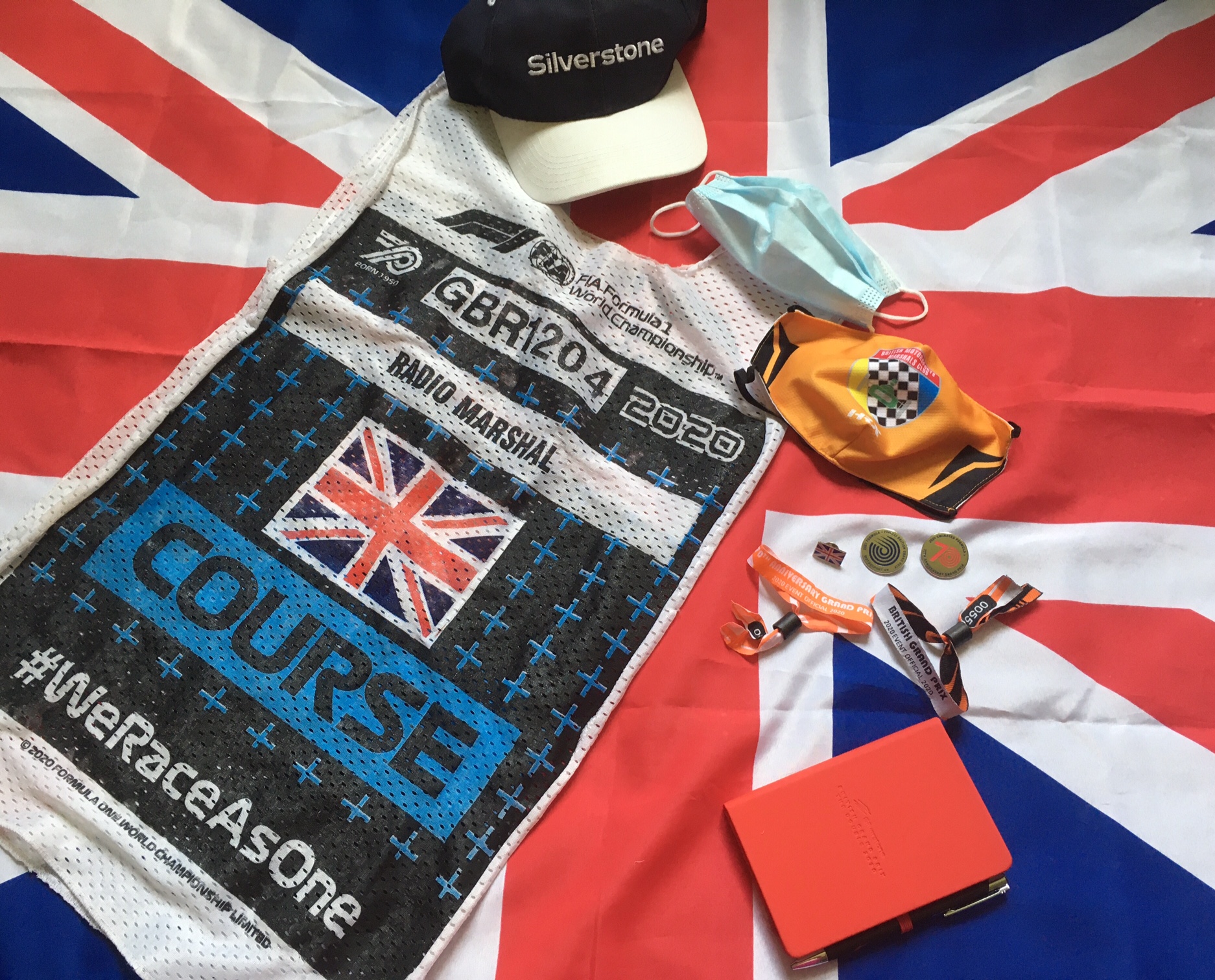 What a weird and wonderful ten days that was……..British Grand Prix times two!

I thought I would take time to reflect on the activities at Silverstone over the last two weekends – the first racing to take place there this year – were the biggest profile events possible so a huge expectation and a monumental effort from all involved.

For those of you who were there I hope you have cooled down and for those of you who missed out I hope the following is a little bit of an insight into how it went.

The FIA, Motorsport UK, Silverstone circuit, Northamptonshire Police, local Councils, Department for Digital, Culture, Media & Sport all were involved in the organising of the event and therefore the final instructions were not available until very close to the event. To ensure we received all documentation we used an APP. Definitely the way forward with daily updates, further information, grids and results! Can we keep this please and maybe other events may use it too?

In terms of numbers the quoted figure was 420 volunteers and officials for the two weekends and although that was lower than previous years – it was certainly more than a standard club meeting at Silverstone! People were asked to step in to different roles.

Less numbers on post to ensure social distancing requirements were met. Incidents happening in unusual places all resulted in incidents taking a little longer to deal with than planned. But all safely executed and cleared away.

Each morning our equipment was delivered to post by the fire tenders having been sanitised from the night before. Our souvenirs, PPE and tabards also arrived this way (the lie in was appreciated for those who would normally have to collect radios). Could we do this at future events too?

The weird bit about the events was the lack of spectators. In some ways we reaped the benefits (which won't happen again with a crowd in situ!):Driving to post each day and parking nearbyFood deliveries to post (no vouchers as nowhere to use them!)Extra chilled water and ice creams gratefully receivedNo queues getting in or outMore police in cars, riot vans, on push bikes, undercover than I could count But we hadNo commentaryNo big screensNo partisan crowd or track invasion (can you imagine when Hamilton won the first weekend? – the crowd would have been insane!)We did our best – cheered and appreciated all race winners. We had Union Jacks out for the THANKS NHS Spitfire (how low was he?!), but it was quieter than a normal club meeting. And I know the drivers felt it too.

Our campsites were not in the usual locations – car parks had been converted for us. And if you lived a commutable distance you were not allowed to stay over. We had to fill in health questionnaires each morning before entry and security was certainly enhanced to protect us and all attendees.

We distantly socialised in the evenings and enjoyed the quietness of the campsites (no neighbouring spectator raves or fireworks!). We weren't allowed to stay on site in between events due to security and hygiene standards but lots of campsites and hotels nearby benefitted. We did get electric hook ups and lighting across the site, regular cleaning teams and 24/7 security.

Huge thanks to The Silverstone Racing Club (SRC) who kept us fed three times a day, on post deliveries and evening meal collections. Plenty of chilled water and ice creams! – free food, no prep or washing up – whats not to like?!

And all the people working in the background to update the APP, sanitise and sort equipment, adapt and change instructions based on issues raised and problems solved – even between events.

Did I mention the weather? It was definitely hot. A few people taken ill both weekends but looked after by the medical teams and recovered / returned to duty. Calls to look out for each other increased and don't forget some areas were wearing face masks all day! I for one was grateful for the cold start to the second Sunday but when the sun came out the heat returned with a vengeance.

With all the hype and previously mentioned issues with media there was a cautious approach to speaking to the media. Motorsport UK asked me to speak with local Capital radio station who used a few clips on Twitter and plugged our website for us – given any opportunity to mention.
https://twitter.com/capitalmidsnews/status/1291673043119595520?s=21
https://twitter.com/capitalmidsnews/status/1292408495250300928?s=21

Janette Williams from the North West region was interviewed by Jennie Gow for the Silverstone podcast – great work Janette (https://audioboom.com/posts/7650385-celebrating-70-with-claire-karun-wattie)

I dropped Ben Edwards a message as Channel 4 had been broadcasting from the Silverstone Experience and he advised they were allowed in to the circuit for Race One but not Race Two. He mentioned our club during qualifying and racing when incidents gave the opportunity resulting in 150 plus requests for taster days through our website.

On the second weekend Sky were also being complimentary of the marshals and our very own Stephen Green (the priest catcher) got the website mentioned and again another 200 plus requests. All will be contacted and kept on the books for when taster days can restart.

I am also working with Motorsport UK to produce some online training which we can offer out as well. Great news for the numbers in the #orangefamily. If anyone else gets the opportunity to mention the club please let us know so that we can track the response rate through the website.

Ben Edwards also shared his thoughts of the two weekends:
"Working at Silverstone was a very different experience for all of us. For example, although my friend and former BBC colleague Andrew Benson was in the media centre, we couldn't meet up even at a distance because of the limitations. My temporary commentary box had no view of the track and I couldn't sit and have a coffee with any member of the paddock, although I did get the chance to see one or two people at a distance which helped to regenerate that crucial connection with the sport. And as I drove out at the end of the Formula Two race and saw the cars cruising past empty grandstands giving no feedback, it re-emphasised the importance of the connection between drivers and marshals as that appreciation of each other's exploits had a real meaning at the end of a long day."

Dr Ian Roberts – FIA Formula One Medical Rescue Coordinator offers his thanks:
"Even with the special measures, the Marshalling team delivered a first class service at both events. Lots of smiles, and despite lower numbers of personnel, the incidents were dealt with very efficiently from my point of view. Special thanks to the team at Turn 4 who regularly helped us to use the "short cut" into Turn 13 a number of times. It really goes without saying that the atmosphere and buzz was sadly missing, but I'm probably not alone in liking the ease of entering (and leaving!) the venue at each end of the day. Looking forward to Silverstone 2021."

I think we can all agree to that!